Most of Smelter Wash Trail crosses Arizona State Trust Land, so you will need to get yourself an Arizona State Land Permit. You can get the $15 individual permit, or the $20 family permit. It is good for a year.
This trail has a few flexy parts, but one of our members runs stock height and tires on his JK Rubicon. As you will see in the video, good driving is all you need.
We took a short lunch break in a wider area in the Smelter Wash. It was a beautiful spring day and the weather was perfect for a nice picnic. Don't you just love the beautiful yellow blooms on the Palo Verde trees! I always think it is the desert equivalent of the Japanese cherry blossom.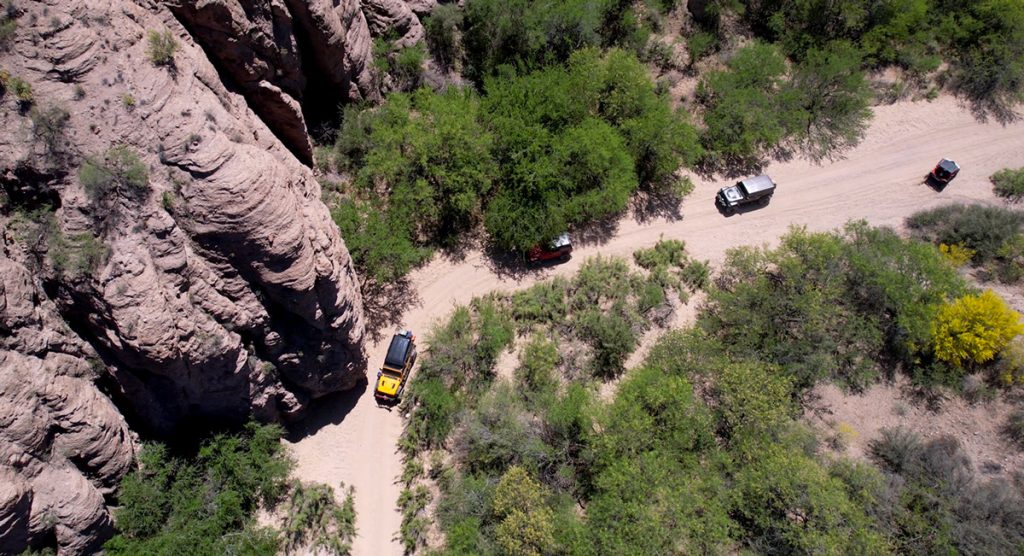 As we continued on the trail, we came up on a double culvert that went under the railroad tracks. Be warned it is quite a drop on the other side. We know this because Jeremy came off the ledge too fast and had to replace our Jeep's trailer wiring harness. Luckily only a 30 dollar item.
The next obstacle is a gate that you have to make a tight right turn to get through it. We would say this could qualify as a minor obstacle in a JT or other truck.
You will get dumped out into the San Pedro River. It is usually a dry and sandy riverbed. If there is a good amount of water flow, your best bet is to turnaround and get back onto Highway 76 using a side trail at the concrete tunnels.
A little side note on Highway 76 (State Route 76), which is now known as Veterans Memorial Highway. State Route 76 was a short state highway in eastern central Arizona, United States that connected State Route 77 and San Manuel with a detached southern segment connecting Pomerene to Benson. In 1974, the section of SR 76 between SR 77 and San Manuel Mine was retired from the state highway system and handed over to Pinal County. This reduced the length of SR 76 to 11.16 miles. The short section of SR 76 that was completed near San Manuel was decommissioned as a state highway in 1988.

This is an opportunity to open up a tiny bit and have some fun in the sandy wash, but please stay alert and safe, there can be motorcycles and even hikers out here so don't go crazy.
The wash will come up on Copper Creek Road, we turned right onto pavement, then left onto River Road.
Even though we had an awesome leader on this trail ride, we like to have the trails we run loaded on our different map apps, on this trip we mainly used the GAIA GPS app.
To get to the Holy Joe Rim Trail, we pulled off the road just past Cowboy Miller Road on the right off of River Road.
It is a very sharp cutback, so you can see we use the large pull over area and spin around then go through the cattle guards.
For us personally, this trail is more fun with ups and downs on the ridge and a couple tight turns. There was a noticeable difference from the smoother Smelter Wash Trail earlier.
From the Holy Joe Rim trail, we get an expansive view of Table Mountain and Holy Joe Peak.
We found a nice wide open area in the wash to setup camp for the night.
Dinner for us is mixed veggies with steak served over salad.
Our TemobTusk Adventure Skottle Grill is perfect for the job. It is compact and just big enough to make food for two people. 

I found this lid on Amazon that fits perfectly over the Adventure Skottle, it also comes with a handy loop that I use to hang the lid on our Rock Slide Engineering Tailgate Table.
For cooking steak on the Adventure Skottle, I like to stick with simple seasoning, usually garlic, salt, pepper and some soy sauce.
Because of the limited space on the Adventure Skottle, I like to cook the vegetables first, scoop them off and then cook the steak. After the steak is almost done, I will add the vegetables back in to finish cooking. That way everything is nice and warm when served.
We gathered around the camp fire and chatted the night away with fun conversations on movies from the late 90's and early 2000's. It was a clear, crisp, starry night. 
So in the morning Jeremy broke out his Fellow coffee kettle and pour over gear to make some coffee.
Jeremy is absolutely spoiled with his coffee. We get our coffee supply from one of the best roaster's in Arizona, they are called Pair Cupworks with a shop in Mesa.
We head out on the fun and windy Zapata Wash to find our way to Tucson Wash after we go left on Highway 77.
We turned right off of southbound Highway 77 just after a small office building onto Camino Rio Road. Portion of Tucson Wash Trail requires Arizona State Trust Land permit, so make sure you purchase and have the permit with you.
The first railroad trestle is a popular photo op for this trail. We took some time and got some great photos.
Tucson Wash leads you in and out of narrow rocky canyon area. It was fun to see all the different terrain. Following the trail, we turn right to get out of Tucson Wash and head north towards Tar Wash. Along the way, there are a couple of interesting stops to check out.
In the bottom of the wash we are going left, it's a quick side trip to the remains of McKinney Dam. We turned around after a quick stop at McKinney Dam. We then turn left back onto the main trail to continue north. From the main trail, we turned right to go on a side shoot to get to the the high desert overlook, also known as View Hill.
We head back down the side shoot from view hill and turn right to get back on the main trail and continue north toward Tar Wash. Along Tar Wash, there are narrow canyons that offer some tight twists and turns with good potential of pin striping.
There is one section where you have a decent ledge, but again a stock jeep can do this all day long.
From there, we headed towards the parking lot behind the office building to air back up.
Again, we can't say enough great things about the Offroad Passport® Club. If you are looking for a drama free, well organized off-roading club in Arizona, we highly recommend that you check them out.