Please feel free to ask questions about equipments and products that you see in the video. Looking forward to share more fun overlanding trip videos with you all.
After work on November 24, we packed up and headed towards our first camp spot for the trip. We knew it would be a long day to make this 6-hour drive after working. But we pushed on with excitement!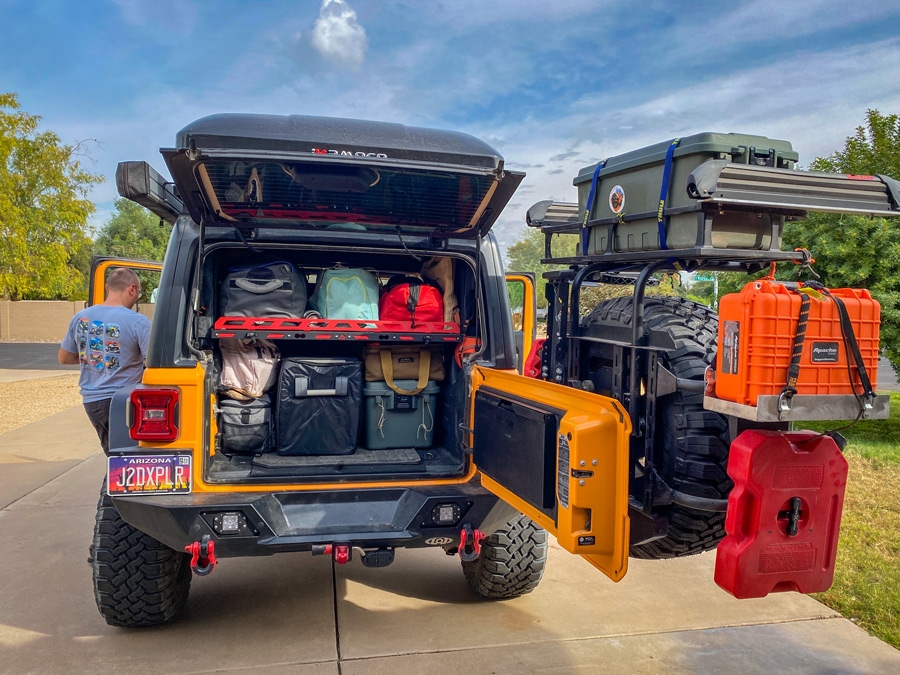 We recently installed the American Adventure Lab Jeep JL M.A.S.S. Cargo Shelf to help us organize the Jeep for multi-day overlanding and this will be our first trip with it.
It was quite a chilly night. We arrived in complete darkness, but had a clear view of the beautiful night sky. We took the winding dirt road to the camp site of our choice and happy to see no one had claimed it yet.
We quickly setup camp and try to cozy up in our sleeping bags and ran the little Kovea CUPID Butane Portable Heater to warm up our iKamper Skycamp 2.0 Roof Top Tent, and turned it off right before falling asleep.
We woke up to an amazing view, we had no idea that it would be this spectacular!
The Mexican Hat Rock, a famed landmark east of highway US 163 above the west bank of the San Juan River, bordering northern edge of the Navajo Nation. It is a sacred and beautiful place we should all work to protect and preserve.
We waited for the sun to rise and warm up our camp spot, our little family was not eager to get out in the cold to make breakfast.
We saw from another overlanding family that put a yoga mat over their car's windshield and hood to let their dog get in and out of their iKamper a few weeks back and wanted to try this out. Zyra did great and quickly learned to use the side window when we give her the commend to get in or out and we will then pick her up from the hood of the Jeep to set her on the ground to prevent unnecessary wear on her shoulders.
Jeremy was on breakfast duty and made us some delicious instant oatmeal with fresh organic blueberries. Of course, he would not start the day without a cup of coffee roasted by Pair Cupworks. We highly recommend their small batch roasted coffee, some of the best we have had from all of our travels.
We got this Rock Slide Engineering Trail Tailgate Table for free from another Jeeper who could not get it to work on the initial install and the seller sent him a new one, and did not want this one back, so he was giving this away for free. Jeremy must have received read my mind because he jumped on this opportunity without knowing this was the exact tailgate table that I wanted!
Lucky us, we figured out the fix and installed it on our Jeep. It works perfectly for our needs.
After breakfast, we strolled down to the banks of the mighty San Juan River to explore. Zyra had a blast with morning zoomies.
This was one of the best Thanksgiving Day mornings. So much more adventures ahead. We took our time packing up and make our way north.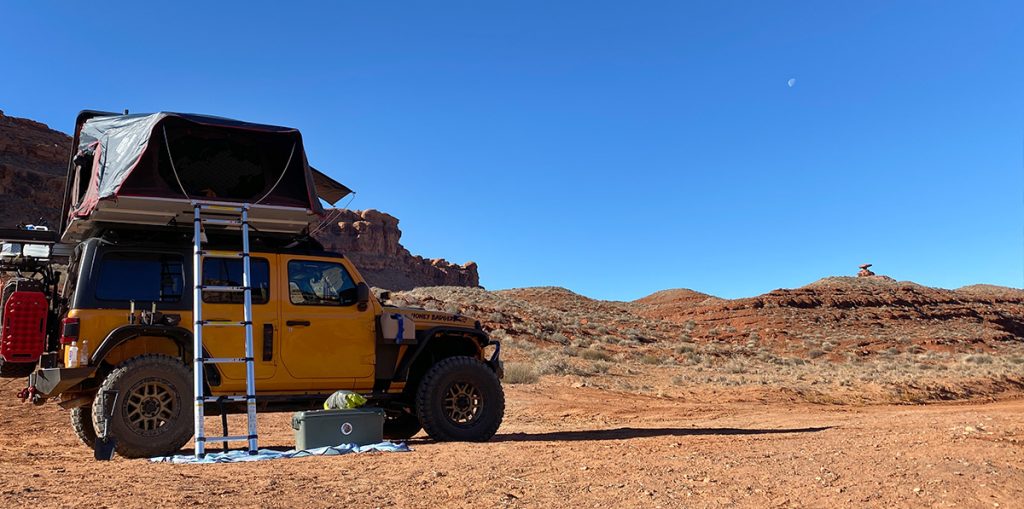 Thanks to the detailed and super helpful trail guides by the crew at Trails Offroad, we found this trail while driving through the area, I was able to find interesting trails on the interactive map when we had cell service.
We made a detour on our way to Moab to check out Comb Ridge, an easy-moderate trail with access to both an ancient Anasazi ruins and remnants of an old west trading post.
The trail crosses Comb Wash in numerous spots and makes for a fun ride when navigating in and out of the creek bed.
We made our way to The Rincone, a trading post constructed in the early 1880's. We took a short water and snack break here and explore the site.
The highight of the trail is definitely the River House Ruin. It is rare to have unsupervised access to ancient sites like this, please DO NOT touch or disturb the artifacts. There are signs that note to stay off the walls of the ruins to protect the rock structures and prevent you from being injured, and please do not take any artifacts you may find.
There are amazingly well preserved petroglyphs scattered around the River House Ruins. Keep your eyes peeled to spot them as you explore the site. 
We encounter a small group of visitors who arrived via river. They docked their kayaks on the banks of the San Juan River which is just a short hike away.
Dispersed camping along this trail is permitted, except for the historical and ruin site areas. 
We retraced our route and headed back to highway US 163 to head towards Moab.
Gemini Bridges – Moab, UT
Our second camp spot for the trip was in the Gemini Bridges area in Moab. We were surprised how many people were in Moab. All the restaurants were packed full and 1-2 hour long waits seemed to be the common theme. We waited 45 minutes for a Thai take-out dinner meal and ate in the Jeep before heading out to camp. It was just a bit too cold and we were too tired to cook.
After another chilly night around 20 degrees F, we woke up again to a remarkable view. We made a hearty breakfast of bacon and eggs, and peanut butter sandwich on the TemboTusk Adventure Skottle Grill.
Then we took the whole 13 miles of Gemini Bridges trail from the trailhead. It is a fun easy trail for Jeeps. There were lots of off-road vehicles, UTVs and mountain bikes along the way.
Gemini Bridges trail is a popular multi-use trail. It has amazing views of the surrounding area. We actually rode mountain bikers on the Lower Gemini Bridges trail on our very first Moab trip back in 2006. Check out the photos from 2006! Resolution was not very high back then. HAHA.
We made a quick lunch stop at the famous Milt's Stop & Eat for some delicious Santa Fe Cheeseburger and milts. Not wanting to arrive camp late tonight, we filled up on gas, picked up some ribeye steaks and started headed our way to the final camp spot for this trip.
Dome Plateau is a 35-mile trail that is so packed full of features and obstacles that the Bronco Off-Roadeo use this trail for their training school!
We know because we have encountered numerous on the short way we drove to camp and the way out from our camp.
We will be back in the future to do the full trail for sure! This is not one to pass up if you ever have time to spend in Moab!
Something we definitely noticed is that the Jeep feels a bit more tippy when doing some of the off camber obstacles with our iKamper roof top tent. We might just be overly cautious but definitely want to be safe than sorry. 
We filled our bellies with some soy ribeye steaks and pasta for dinner and quickly retreated into our iKamper Skycamp 2.0 Roof Top Tent for warmth by turning on the little Kovea CUPID butane heater.
Another product we recommend is the Speedflate 4X System. It is extremely handy and speed up the process to air-down and air-up for trail rides. This system allows you to air down or up all four tires at once.
The trip was amazing! We are so glad we did it and tested out our new overlanding setup. There will be more detailed post on review for some of the individual products we have used. Please subscribe to our J2DXPLR YouTube channel for those in the future.